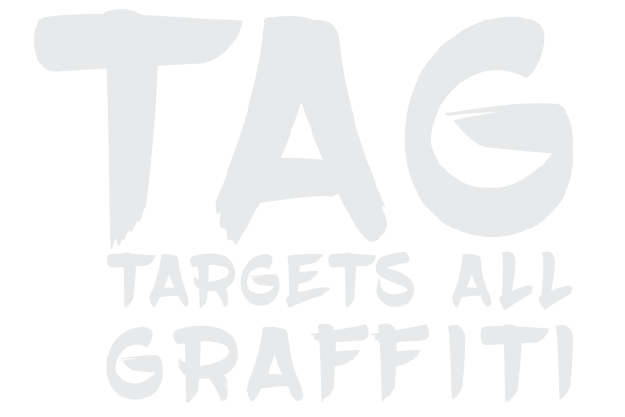 Graffiti Remover
Non Flammable
Safe on All Surfaces
Non Toxic
One Product Does All Surfaces
Non Corrosive
Biodegradable
Non Hazardous Ingredients
TAG is based on a blend of low odour, non toxic and biodegradable surfactants and ingredients. Combined with a unique activating agent, TAG effectively penetrates and removes any graffiti quickly from all surfaces without harm to the operator or substrate.
TAG is highly effective on oil based and acrylic paints, texta, biro and crayon. Even fluoro marker paints are quickly denatured and removed.
TAG is safer for the user and the environment as it does not contain chlorinated solvents, citrus solvents or any other dangerous hydrocarbons or carcinogens. It is ideal for use inside even in low ventilated areas.
TAG is quick to penetrate graffiti and evaporates slowly allowing more working time for the user to agitate and rinse off. It can be used on a multitude of surfaces, both painted and unpainted.
TAG is the ONLY graffiti remover you will need. Its quick, thorough and cost effective.
Interior and Exterior of Trains & Buses

Bus Shelters

Brickwork

Concrete (painted & unpainted)

All types of metals

Plastics & Vinyls

Glass & Acrylics

Timber Surfaces
Low Odour

Fast Acting

Slow Drying

Contains Non Hazardous Ingredients

Free Rinsing

Multi-Functional
No unpleasant solvent fumes

Removes all graffiti in 2-3 minutes

Suitable for use on hot surfaces

More user friendly to operator

Minimises the need for protective clothing

Requires high pressure water rinse only

Works on all surfaces

One product does all